Thursday of the conference will feature the Tech Tour, which will give registrants a chance to see a lot of varying aspects of the industry. Everyone will be bussed, so no worries about maps, carpooling, or sampling a little mead and local beer.
The Thursday Tech Tour is included in the price of the Wednesday through Friday Conference registration, or the Tour can be purchased as a single day registration on Thursday for US$100.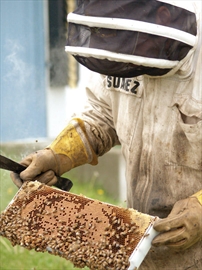 We'll start the morning out with a tour of Ontario's largest apiary, Parker-Bee Apiaries, where owner Mike Parker and the Ontario Beekeepers Association have been working on an osmosis unit to clean old comb.
Next, we're off to Niagara Falls, where we will be having a boxed lunch (included) at the Falls. www.niagaraparks.com
Then, we're off to the Niagara Butterfly Conservatory with over 2,000 colourful tropical butterflies floating freely among lush, exotic blossoms and greenery. Paths wind through the rainforest setting, past a pond, waterfall, and the emergence window, where butterflies leave their pupae and prepare to take their first flight! Over 2,000 butterflies, made up of 45 different species, call this beautiful space home. www.niagaraparks.com/niagara-falls-attractions/butterfly-conservatory.html
Optional Free Evening Event, Limited to First 350 Registrants. To finish off the day, we will be touring one of Ontario's most successful beekeeper's honey house and staying for a BBQ dinner with a live band and, of course, the annual auction, including a queen auction. John and Alison Van Alten of Dutchman's Gold Honey and Maple Products and Tuckamore Bee Company have graciously offered to open their honey house for this rare opportunity. www.dutchmansgold.com
This event promises to be a lot of fun!